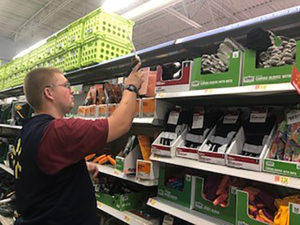 Duncan first came to Cascade Connections through the Division of Vocational Rehabilitation (DVR) in July of 2017, after finishing Community Transitions at Mt Baker High School. Duncan began at Cascade by participating in our Interviewing Skills Workshop, which included two mock interviews with real employers after completing the workshop sessions. He then contracted with Cascade to receive Community Based Assessment Services in order to try out work in custodial, retail, and materials handling before getting a part-time job. Cascade had the opportunity to support Duncan to try out simulated retail work at Marshalls, as well as materials handling at Northwest Healthcare Linen. Through this process, Cascade learned how to best assist Duncan on the job, by working with the employers to develop consistent routines and creating tools such as concrete task lists.
In March of 2018, Duncan began Job Placement Services with Cascade. Cascade helped Duncan apply to several open retail and materials handling positions at different businesses where he wanted to work. In May, Duncan accepted a position at Walmart working in the Home & Garden and Toy sections. During the following months, Cascade created a pocket-sized task list to help Duncan navigate his tasks, as well as provided support to help with learning his job tasks. Duncan continues to work at Walmart up to 20 hours per week, and is a valued member of their team!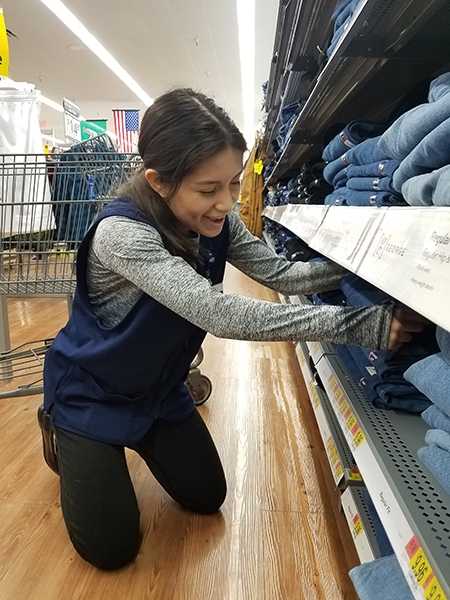 In February 2017, and in her final year of Ferndale Community Transitions, Tia chose Cascade Connections to provide her with job services. DVR asked Cascade Connections to assist Tia while she worked on getting her STARS childcare certification. Tia also attended Cascade's Interviewing Skills Workshop; Cascade staff helped Tia learn to interview for jobs in her interest areas, childcare and retail clothing. As part of the job search process and a Community Based Assessment contract, Tia got to try out some work at a couple childcare facilities. At this point, Tia was ready for work, so Cascade began helping her apply to clothing stores and childcare sites.
Tia got an interview at Walmart for a position in the apparel department. Cascade supported Tia to interview and she got the job! A main area that Tia works in is children's clothing, which is her favorite. While she learned her job duties, Cascade was able to provide assistance for Tia through a DVR Intensive Training Services contract. Since Tia was eligible for long-term supports through DDA, Cascade continues to support her at Walmart, to be successful. Tia's co-workers report that they love working with Tia and that she is a great worker!