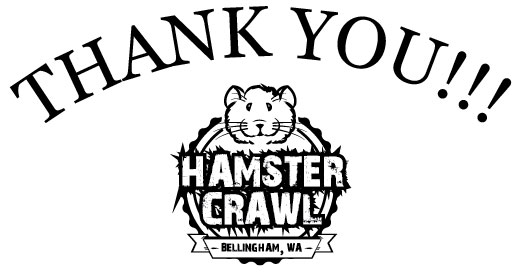 Cascade Connections would like to thank all of our participants and sponsors for our recent fundraising event, The Hamster Crawl. Your partnership lead to a very successful afternoon benefiting people with disabilities in our community.
Thank you, KISM 92.9, Boundary Bay Brewery, Chuckanut Brewery & Kitchen, CubanoCubano, Grand Avenue Alehouse, Hampton Inn Bellingham, Artifacts Wine Bar, Bayou on Bay, Casa Que Pasa, The Real McCoy, Cosmos Bistro, The Racket – Bar & Pinball Lounge, Rock and Rye Oyster House, Bellingham Bar & Grill, The Local, Uisce Irish Pub, Horseshoe Cafe, WECU Whatcom Educational Credit Union, Wilson Motors, Lester & Hyldahl, Thrivent Financial, Kibble & Prentice, Woods Coffee, Peoples Bank, and the many friends of our organization!
Stay tuned for the 2016 Hamster's Ball information.