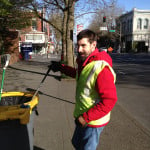 Cascade Connections is committed to empowering individuals with disabilities to enhance their quality of life. We believe that every person can and should work. It is our job to help figure out how to make that happen.
In order to qualify for services a person must have a documented disability. The person must also have a referral source. We currently hold contracts with the Division of Vocational Rehabilitation, Developmental Disabilities Administration and Department of Services for the Blind. Contact the agencies below to determine your eligibility for our services.
---
You may be eligible for services through DVR if you:
Have a physical or mental disability that is a substantial barrier to employment
Require vocational rehabilitation services to get or keep a job
Division of Vocational Rehabilitation website – http://www.dshs.wa.gov/dvr/
---
You may be eligible for services through DDD if you:
Have a disability attributable to:
Intellectual Disabilities
Cerebral Palsy
Epilepsy
Autism
Another neurological or other condition closely related to intellectual disabilities or that requires treatment similar to that required for individuals with intellectual disabilities
Which:
Originated before the individual attained age eighteen
Continued or can be expected to continue indefinitely
Results in substantial limitations to an individual's intellectual and/or adaptive functioning
Developmental Disabilities Administration website – http://www.dshs.wa.gov/ddd/
---
You may be eligible for services through DSB if you:
Have a disability – a visual impairment which alone or combined with other impairments results in a substantial impediment to employment
VR services are required for the individual to prepare for, enter, engage in, or retain gainful employment
Division of Services for the Blind website – http://www.dsb.wa.gov/
---
Other Entities: Please call our offices for additional information 360-647-9087.